Use your Black Friday and Cyber Monday savings to help us reach our goal of $2,000 for the RED Ahead program.
Become part of a lasting solution to help young children develop language skills needed to be ready for kindergarten by donating your time or treasure to this program.
You can donate to RED Ahead today, or sign up to receive emails when volunteers are needed to read in WIC clinics. Whether you give dollars or volunteer time, you help make a difference in the lives of children in East Central Iowa.
To donate or sign up to volunteer for RED Ahead:
Text "ahead" to 41444
(Be sure to click the link to complete your donation)
You gave. Now share.
Use the images below to tell others about #GivingTuesday on your social media pages.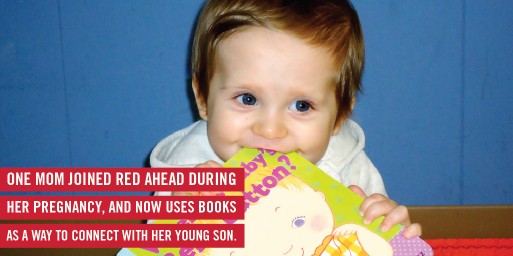 One mom joined RED Ahead during her pregnancy, and now uses books as a way to connect with her young son.
RED Ahead works with this mother and her 13-month-old son who is developmentally behind. Though he is unable to sit up and has trouble moving his arms and legs, he responds to her through facial expressions.
When they are in the office, her son looks right at the book and smiles as his mom reads to him. She looks forward to coming to her RED Ahead appointments because she knows her son enjoys the books she receives.
At the first RED Ahead visit, a three-year-old girl barely spoke and mostly used gestures to communicate. Since then, the child has been working with Grant Wood Area Education Agency for speech therapy after RED Ahead's recommendation.
Now, she's talking up a storm and calling her father daily on his lunch break to tell him about her day.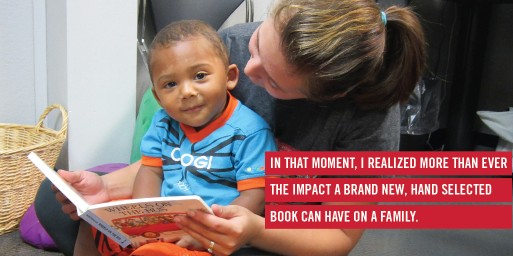 A mother came in for her first RED Ahead visit with her newborn baby. When she realized she was getting the Rainbow Fish bath book, the most thankful look appeared on her face. She said that she had really wanted to get this book for her baby but couldn't afford the $8 cost.
In that moment, I realized more than ever the impact a brand new, hand selected book can have on a family. From this experience, I know our program truly changes lives.
What is #GivingTuesday?
On the Tuesday following Thanksgiving, Black Friday and Cyber Monday, #GivingTuesday kicks off the charitable season, when many focus on their holiday and end-of-year giving. Since 2012, #GivingTuesday has become a movement that celebrates giving and philanthropy.
What is the RED Ahead Program?
RED Ahead (Read Every Day to get Ahead) provides parents information and activities to help their young children develop the language skills they need to be ready for kindergarten. Currently offered at the Urban and North Towne WIC clinics (Special Supplemental Nutrition Program for Women, Infants, and Children), the program is a collaboration between United Way of East Central Iowa and Hawkeye Area Community Action Program (HACAP).