WILLIAM B. QUARTON SOCIETY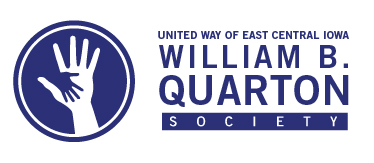 Donors who give $500–1,249. The William B. Quarton Society honors Cedar Rapids philanthropist Bill Quarton (1903–2007). Members of the Quarton Society actively promote volunteerism. Quarton steering committee members select finalists for United Way's Volunteer Recognition Awards in the spring and actively participate in organizing the Time for Art event, at which attendees pledge volunteer hours in exchange for donated pieces of art from local artists.
2015 Chair
Erin Moeller, Benchmark, Inc.