Frequently Asked Questions
Learn how United Way helps the community, where your donation goes, how to give to your workplace campaign, and more. Click on the question below to see the answer.
Q: Who does United Way help?
A: From newborns whose parents need guidance to aging seniors who want to remain in their homes, United Way helps the most vulnerable populations. We work with many individuals, nonprofits, companies, and public organizations to improve our community for everyone.
Q: Does my donation go to nationwide programs or stay local?
A: United Way of East Central Iowa is a branch of United Way Worldwide. Each branch gives 1% of their campaign total to United Way Worldwide. This covers licensing, training, and other opportunities available to all United Ways, including United Way of East Central Iowa. The remaining 99% stays right here in East Central Iowa.
Q: Since United Way gives money to other nonprofits, isn't it just easier to give directly?
A: United Way addresses issues facing our neighborhoods in the areas of education, financial stability, and health. In order to receive funding, each organization must show measurable results in these areas. When you give to United Way, you can be sure your donation is making a difference.
Q: What is United Way of East Central Iowa's administrative rate?
A: Every business has operating expenses — even nonprofits like United Way of East Central Iowa. We are proud of our 14% administrative rate, whereas the national average for nonprofits varies between 16–19%. For each dollar invested, $0.86 goes back into our community while the other $0.14 covers fundraising and administrative costs.
Q: Do I have to give to my workplace campaign?
A: Giving is always a personal choice. We don't want campaigns using pressure in any way, shape, or form. That's not who we are, and it's in direct conflict with our standards. When we conduct training programs for fundraisers, we emphasize the use of information and education — not pressure tactics.
Q: I signed up for payroll deduction last year, so haven't I already pledged this year?
A: Your pledge to United Way is on an annual basis. Each year, you will need to complete a paper pledge form or an online pledge form.
Q: Can I make a difference if I can't afford a large gift?
A: No matter the amount, your donation impacts our community. For as little as $1 per week ($52 per year), your donation will go to those most in need.
Q: What is the difference between restricted and unrestricted gifts?
A: United Way is seeing an increase in restricted donations. Unrestricted dollars come from workplace campaign individual and company donations. Restricted dollars include federal and state grants, individual donor designations to nonprofits of their choice, as well as programmatic-specific funding. Examples of restricted gifts include: federal & state grants, donor designations, Women's Leadership Initiative, Young Leaders Society, Allocation & Initiative funding for programs like RED Ahead and 2-1-1.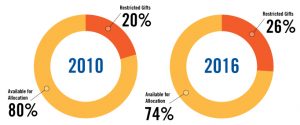 Q: Where can I find your 990?
A: You can find the 990 forms and UWECI audit here!