Join us virtually to celebrate volunteering in our community at Time for Art: A Celebration of Volunteers! This year's event will allow you to enjoy everything you love about Time for Art from the comfort of your own home.
Time for Art will begin on Monday, April 12 with a week-long silent art auction, where participants will be able to bid on a variety of pieces from popular and up-and-coming artists in Eastern Iowa. This will conclude on Friday, April 16 at 5:30 p.m. with a live streamed program that will cover:
Announcement of our 2021 Volunteer Award winners
The results of our week-long online art auction
Our 2021 Artist Awards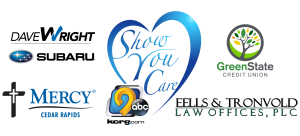 Registration for this virtual event is required to participate in the online auction and view the program on Friday night. Click the button below to register by Friday, April 9!