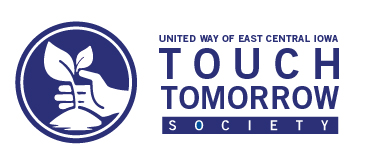 The Touch Tomorrow Society recognizes donors who support United Way's Endowment through outright or estate gifts. These donors strengthen our community, improve lives, and make an everlasting impact.
WHIPPLE LEGACY CIRCLE
United Way of East Central Iowa named the society for William P. and Gayle S. Whipple, the first eastern Iowans to endow an annual gift to United Way. This recognition society honors individuals who endow their annual leadership gift with a Whipple Legacy Circle Fund.
For more information or to receive our general newsletter, please complete the form below.