Linn County Continuum of Care
Established in 2000, the Linn County Continuum of Care Planning & Policy Council is a voluntary planning and advisory group that works to prevent and eliminate homelessness in Linn County. Its mission is to organize and maintain a strategic network of community interests in Linn County, IA, that will identify and coordinate housing and services to meet the specific needs of homeless people or those at risk of becoming homeless.
The Continuum of Care consists of 58 members from a broad array of community interests who work together to address homelessness, housing, and hunger issues. In partnership with United Way of East Central Iowa, they produce the Point In Time Counts twice annually and the Individual Family Needs Survey once annually and have done so since 2007. Since this time, homelessness in Linn County has been relatively steady, peaking in 2014, and decreasing since then.
Who is homeless is Linn County? Children. Children consistently make up 40% of the homeless population in Linn County.  In looking at all of those counted through the Point in Time, women and children were the most common: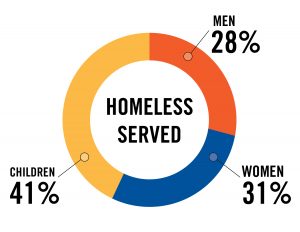 Below are a series of documents and handouts made available to public officials at an event on October 24, 2016.