Connecting to the services needed
Read the latest 2-1-1 Annual Report
Many people in our community struggle when trying to navigate and make connections to services they need. United Way 2-1-1 is a free health and human service information and referral resource.
Individuals can call 2-1-1, 319-739-4211, 1-866-469-2211, or search our website database for a variety of resources including: food, clothing, shelter, information about the Affordable Care Act, free medical clinics, employment supports, energy assistance, and much more. Click here for the 2-1-1 990 form.
Who do we help
Individuals, families, and the greater community all benefit from United Way 2-1-1. Those who call 2-1-1 work with trained and certified Information and Referral Specialists who assist individuals and families in finding possible resources to meet their needs. Information about where people call from (i.e., zip code), what they call about, and gaps in services are then shared to assist with community planning.
Between fiscal years 2010–14, the top six needs represented 81% of what people called United Way 2-1-1 about. The chart below shows the top needs. During the last five fiscal years, the top areas have remained the same; however, we have seen an increase in the number of health care calls in the past three years.
Information and Referral Specialists also document if they were able to provide referrals for those requested needs. In some cases, they are not able to make a referral. During fiscal years 2012–14, Information and Referral Specialists documented 10,207 unmet needs in the United Way 2-1-1 service delivery area. The needs most frequently identified as unmet can be found in the chart below. Three of the five areas listed were also some of the most requested services listed below.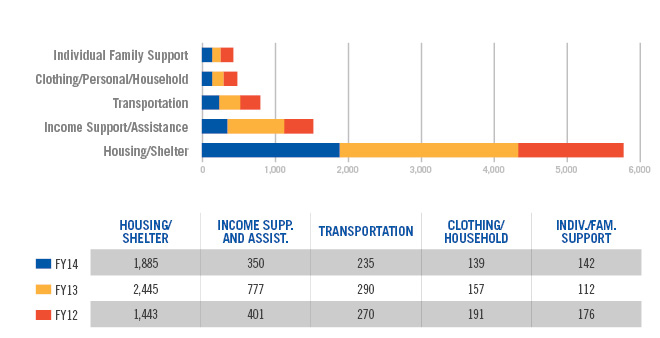 Tax preparation
United Way 2-1-1 also schedules tax appointments for the following partners who provide free tax preparation services in our area:
Linn County AARP
Linn County VITA (United Way 2-1-1 contributes more than 1,486 hours of scheduling services to VITA, valued at more than $23,694.)
Jones County RSVP (a program of United Way of East Central Iowa)