Affordable housing
For low-income families, meeting basic needs can be challenging. We want all families to live in safe and affordable housing, earn enough to pay the bills, and save for the future.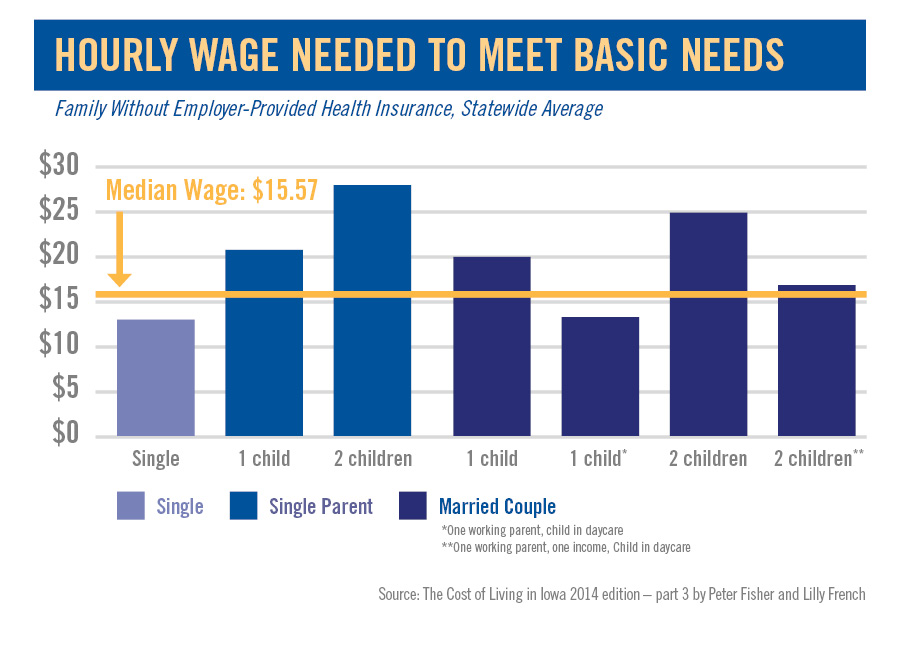 Finding stable housing is an issue that many struggle with in our community. Housing cost burden is when a household pays more than 30% of their monthly income on housing. In 2010, one in four households in Linn County was housing cost burdened. In Cedar Rapids, this statistic is even higher with nearly half of all renter households being cost burdened.
United Way's goal is to increase the number of financially stable households by 15% by 2020.
To reach our goal, we focus on four key aspects:
Basic Needs: Low- and moderate-income households use a safety net of services that support their basic needs such as food, shelter, and housing.
Stabilization: Families have support services to stabilize and increase their income. These low- and moderate-income households are able to move beyond the basic needs stage.
Build Skills: Low- and moderate-income individuals build work-related skills through soft skill training, certificate, and education programs.
Build Income: Individuals find higher paying jobs in the workforce and use support services to close the gap between their earning and basic living costs.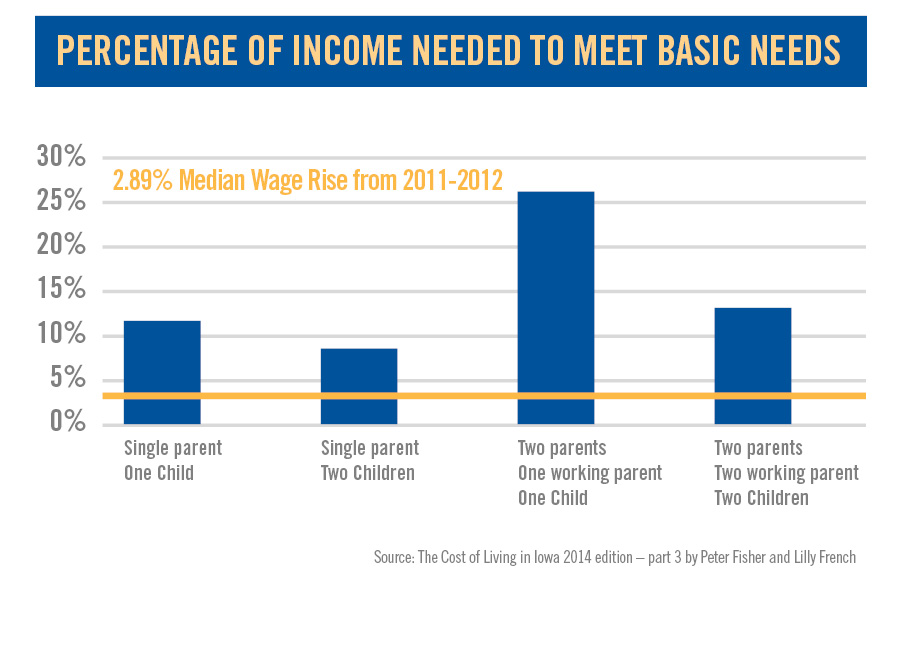 Improving situations
United Way's work in Financial Stability means more than just helping people meet their basic needs, but also providing services that help households improve their situation and get ahead.
Free Tax Preparation: The IRS Volunteer Income Tax Assistance (VITA) and the Tax Counseling for the Elderly (TCE) programs offer free tax help for those who qualify at thousands of sites across the country. For tax year 2014, AARP provided free tax preparation through TCE, and United Way hosted VITA locations in Linn County. United Way RSVP took on VITA in Jones County.
Free Tax Coalition: United Way is also the convener of the Free Tax Coalition. This team consists of local, regional, state, and national partners that are working to increase and support the number of low- and moderate-income families that can take advantage of free tax preparation and receive life changing refunds and credits.
Kirkwood K-PACE and GAP: The Kirkwood Pathways for Academic Career Education and Employment (K-PACE) supports individuals' abilities to advance over time to successively higher levels of education and employment, helping them gain financial stability along the way. GAP is a complementary tuition assistance program that provides funding for need-based tuition assistance. Through this program, applicants complete continuing education certificate training programs for in-demand occupations.
Continuum of Care Coalition: United Way of East Central Iowa works with the Continuum of Care Coalition on the prevention of homelessness. The Coalition has successfully created a Coordinated Intake program to help find open shelter beds or affordable housing in the community and a Rapid Re-Housing service to help homeless families or near homeless families find permanent housing.
The results
In 2014, United Way's partnerships with local agencies resulted in:
1,094 households secured housing for one month and homelessness was prevented.
1,304 households improved their financial situation with counseling, case planning, and goal setting.
222 individuals who increased their skill level.
317 Individuals were able to attain or maintain employment.
For tax year 2014, free tax preparation by AARP and the Jones and Linn Counties Volunteer Income Tax Assistance (VITA) programs completed 3,508 tax returns returning $4.7 million to low- and moderate-income households in our community. Clients saved more than $750,000 in tax preparation cost.
From August 2013 through December 2014, 353 Adults have enrolled in the K-PACE and GAP middle-skill job training programs, 170 completed the training, 142 found employment in middle-skill jobs, and 119 experienced a wage gain.
Click below to see Financial Stability trends and community data