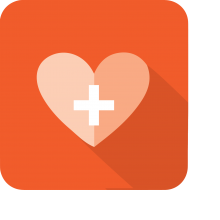 Our Health Goal
By 2020, improve social connectedness and mental health functioning of low-income adults by 10%.
Physical & Mental Well-Being
The conditions in which we are born, grow, live, work, and age influence our lifelong health. Factors that influence our health include healthy vs. risky behaviors, clinical care, social and economic factors, and environmental factors. Socioeconomic factors and health behaviors account for 70% of health outcomes and determine length and quality of life.
It is important to focus on birth to end of life and both rural and urban communities in our service area. Needed services range from prevention and treatment all the way to stabilization. With the proper coordination and health services across systems, we can begin to reduce health barriers and promote well-being, healthy behaviors, and healthy aging across all life stages, especially for those who are at greater risk of health disparities.
Partner Programs
We collaborate with our health partners on the following programs and initiatives: